HowtowearLeopard!
Pair a leopard-print blouse with yourfavouritejeans.
Loosely front-tuck your blouse and finish off your outfit with flats or heels, depending on how dressed-up you want to look.
Wear leopard flats for work and the weekend.
Leopard high heels are awesome day or night, but, depending on where you work, they might be a bit fashion-forward for the office. Instead, try a leopard-printed flat. They're great for dressing up work wear basics like black pants and white collared shirts, and they make it easy to take your look from the office to anightout without actually having to change.
Break up a flowy leopard dress with neutral accessories.
Most people, when they hear the phrase "leopard-print dress," picture something skin-tight and, for lack of a better word, gaudy. But it doesn't have to be that way! Instead of a body-con leopard-print dress, try something loose and flowy. Layer on a belt or a jacket to break up all that print and keep the look grounded with simple accessories and flats.
Use leopard as a tiny accent on an otherwise clean and simple outfit.
A little bit of leopard can go a long way. The simpler and more monochromatic the rest of your look, the more that touch of leopard will pop. Wear it in the form of a narrow belt to subtly draw attention to your waist, or on sunglasses, scarf or hair tie for bit of flair.
Keep it casual with a slouchy leopard-print T-shirt.
As far as prints go, leopard is pretty sexy, so it's a great way to add a little edge to an otherwise gender-neutral and somewhat sexless silhouette like a loose T-shirt, basic button-down, or straight-leg pant. Add an extra dose of femininity by pairing your unisex leopard piece with something skin-baring like shorts, a miniskirt, or a low-cut tank top.
Wear fitted leopard pants and a moto jacket.
There's something a little bit retro about a pair of fitted leopard pants and a tough-girl jacket. Sort of like Sandy in Grease. Even though Sandy didn't technically wear either of those things, the vibe is still there and it's still pretty cool even after all these years. Then again, everything looks cool with a black leather moto jacket.
Treat leopard like a neutral and mix it with other prints.
The soft, organic shapes of naturalistic leopard print look great next to more graphic prints like polka dots, stripes, and plaids. Space your prints out — one on top, one on bottom — to keep the look balanced, and layer in neutral-colored clothing and accessories to keep it from getting too busy.
THE SWEATER COAT
Tis the season for cardigans, winter coats, and sweater coats! We love this time of year – the cooler days, the layers, and of course the HOLIDAYS!! A sweater coat offers a little more structure and design with a slight cardigan slouch, perfect if you ask us. They are great for those cold days when you don't need a winter coat, but a cardigan is just the right amount of warmth. It's like being wrapped up in a blanket and who doesn't love that?!
PAIR WITH A TURTLENECK
We are huge fans of turtlenecks and if it's a striped turtleneck we are instantly sold! We love an extra layer of warmness during those cold and blustery fall days. Can we all agree that there is just something about a turtleneck that makes your outfit look more dressed up and put together?
STYLING TIP
Retro looks are very in. Style your sweater coat with a retro striped turtleneck, a pair of printed booties, and a beret. You instantly look chic and stylish for the fall and winter weather!
PLACE A BELT AROUND YOUR WAIST
If you are feeling a little too bulky, wrap a belt around your waist. It dresses up your sweater and defines your waist.
PAIR WITH A CAMISOLE
Camisoles are a closet staple if you ask us! They dress up any outfit and can be worn year round. When we style a camisole, we like to pair it with a pair of ripped skinny jeans. It just adds that little bit of edge to a feminine top.
STYLING TIP
Try wearing all black underneath your sweater coat for a more sophisticated look. Complete the look with a pair of black booties, black tall boots, or even your favorite black pointed pumps.
PAIR WITH A DENIM SKIRT
Have a denim skirt in your closet that you wore all summer… bring it back out! It doesn't have to be retired for the season just because the fall and winter weather has arrived.
STYLING TIP
Over the knee boots are great for taking what you may typically wear for summer like a denim skirt and extend the life. They add that extra bit of warmth that you need! Pair your OTK boots with a denim miniskirt, a turtleneck for that added warmth, and your sweater coat.
PAIR WITH A DRESS
A sweater coat can be styled with any dress. It just adds that warmth and structure you need.
STYLING TIP
Have a sleeveless dress that you love, but winter weather has decided to come early? Wear the dress with your sweater coat and a pair of over the knee boots.
PAIR WITH JEANS
Keep it simple and style your sweatercoat with a simple tee and your favorite ankle jeans. Finish it with a fantastic ankle boot and your favorite chapeau! Easy casual.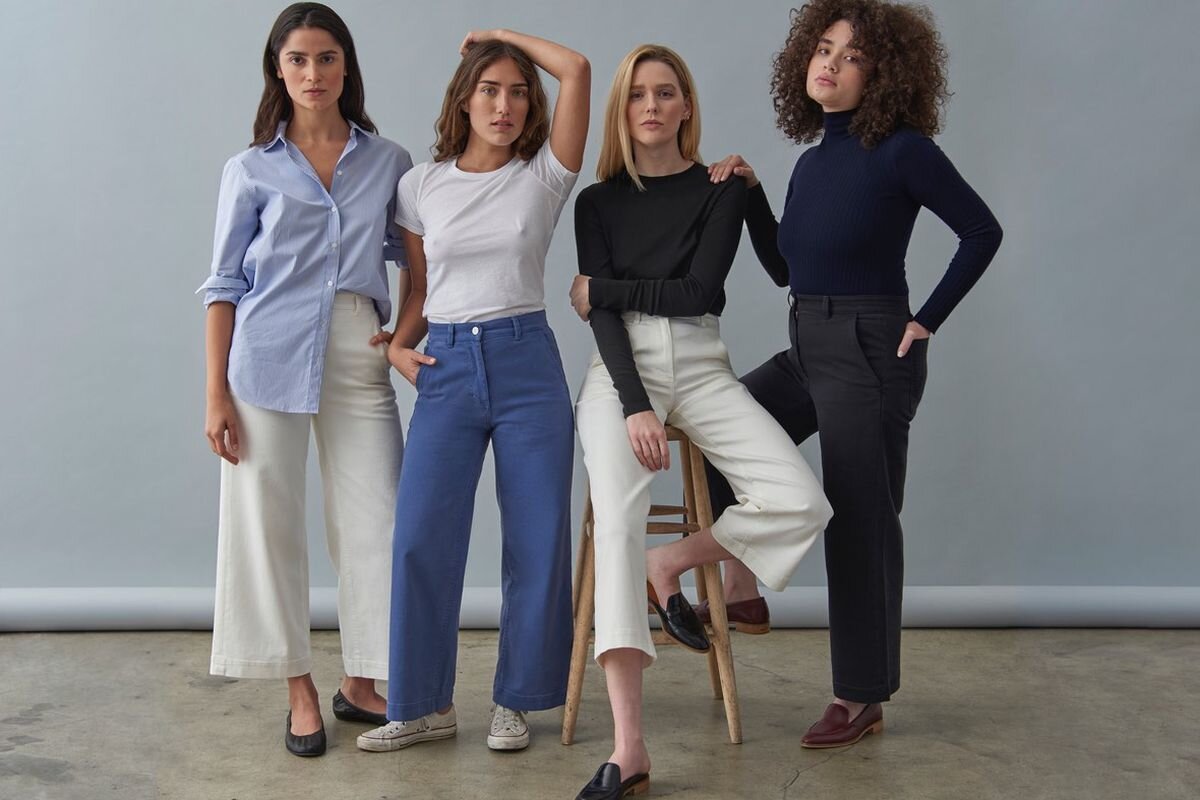 Wide Legged Pants: How To Wear Them
For years, skinny jeans dominated the wardrobes of this world. But in 2018 something changed on the legs of women. The fashion world is crazy about wide leg pants. Finally it gets more airy on the leg and you do not necessarily force yourself into extremely skinny jeans. So it gets comfortable with the wide leg pants trend 2019.
Why Should You Wear Wide Legged Pants?
Let's look at some reasons why wide leg pants can be a very flattering option to wear for many women.
#1 Wide Pants Can Lengthen Your Legs
Wide leg pants are great for short legged women like me, as flared pants are very leg lengthening when they fit well at the top.A few things you need to keep in mind to accomplish this:Tuck in your tops or wear your wide leg pants with a short cropped tops.For maximum effect wear them with (high) heelsorboots though and make sure your pants or jeans almost touch the ground.
#2 Wide Pants May Cover Up Your Muffin Top
If you have a bit of a belly or muffin top (as many of us women have) then wide leg pants do a great job to cover them. If you feel your belly is too big, then you may like to wear your wide pants with a long (sleeveless) vest that will do a great job at camouflaging the belly.
#3 Wide Leg Pants Are Comfortable! One of the best items to travel with. You'll want to make sure that you either tuck in your tops or wear wide pants with short tops to improve the silhouette and make them look flattering on you. If your tops are too long or too wide, you would just look wide all over which is not flattering. With wide leg pants especially, you need to create some structure in the outfit.
#4 Wide Leg Pants Are Fashionable
Especially the wide cropped pants variety is popular right now.With this type it's even more important to tuck your tops in as you want to create a one third / two third silhouette.

Some Additional Tips On How To Wear Wide Pants
*Wide pants look particularly good if you define your waist with a belt.
*Try to balance the total look and wear something slim fitting on top. Flared pants can make for a very classical look so they will look great with a well fitted shirt.
*Although a slim fitting top is the easiest and most flattering way to wear wide pants, I also like to combine them with short dresses and wider tops. It's a tougher look to pull of, but I personally like the silhouette it creates.
*Short people can also wear wide pants. Just make sure they are more fitted at the top and the pants don't flare too much.
*Although wide legged pants can be perfect for the pear body shape, make sure you don't have any side pockets as that will add extra bulk.
*Pear shapes also benefit from flat front pants, as opposed to pleated ones.
*Wear them with heels to maximize your leg length.
*There is a style of wide leg pants for every shape and size. Try a variety to find your perfect match.